A graduate student's exhibit that addressed racial profiling and violence towards Muslims has been defaced at the School of the Art Institute of Chicago, where someone highlighted the text "Kill all Arabs" on the piece.
The Chicago Tribune reports that Muslim graduate student Anida Yoeu Ali created the piece as part of a series at the school entitled, "1700% Project," which uses art to respond to hate crimes. The piece that was defaced included 100 lines of white vinyl text composed from actual hate crimes experienced by people perceived as Muslims and Arabs.
Police told the Tribune they responded to the downtown school on Tuesday afternoon for a report of the defacement, and they believe the incident occurred sometime between last Thursday and Tuesday when police were notified.
The wall installation was defaced with caricatures and a word bubble that was not part of the installation or original performance, according to the 1700% Project's website. A word bubble was strategically placed around the wall text that reads "Kill all Arabs."
Here is a photograph of the original exhibit, with the defaced one below: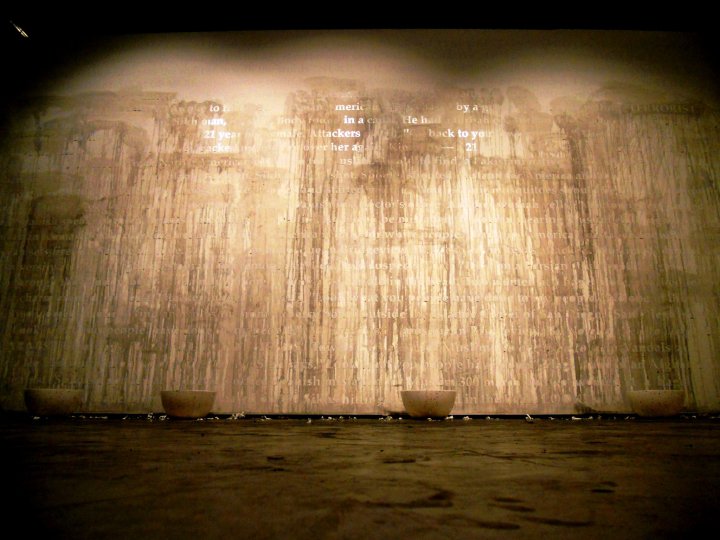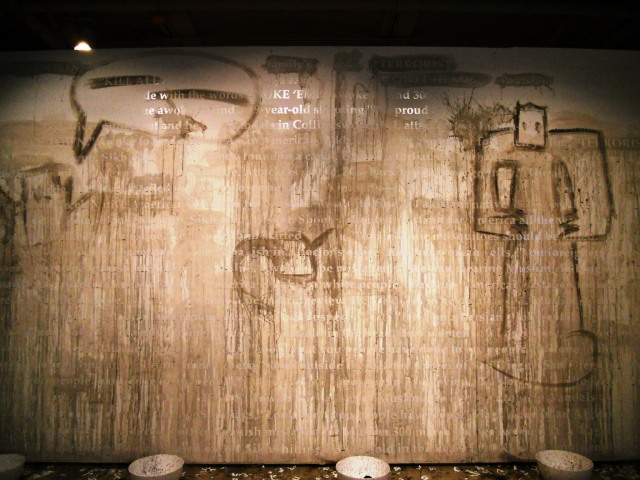 // <![CDATA[
document.write('');
document.write('');
var debugadcode = ";
debugadcode = debugadcode.replace(/' + HPAds.ads_client_side_qvs() + ';/gi,HPAds.ads_client_side_qvs());
document.write(debugadcode);
// ]]>
"Students who put themselves at risk in presenting works and expressing their deepest and most personal sentiments are in no way responsible for other people's acts of bigotry or for other people's political leanings," Dr. Nora Taylor, Department of Art History Graduate Director said in a statement. "As a community, we should support personal expressions by students in the context of exhibitions and studio presentations, no matter what political or religious inclination they might project, but we should never support offense or violence by other students against their views. Anida Yoeu Ali has devoted her life to fighting prejudice and violence. I am saddened that such immature behavior was displayed on the part of those who vandalized her work."
"This is not just an assault on me as an artist, this is an attack on multiple communities to which the work speaks for," Ali said in a statement from the Council on American-Islamic Relations (CAIR).
No one was in custody for the defacement Wednesday evening, and police told the Tribune the crime was classified as criminal damage to property. Whether it will be investigated as a hate crime is not yet known.